Diamond Dragon Pokie Online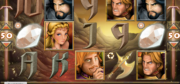 Provider
Rival
Reels

5

Paylines

50

Min. Bet

0.05

Max. Bet

62.5
Welcome to the all-you-need-to-know article for the Diamond Dragon Pokie. We were very excited to play this pokie in order to give you all the details about our experience and provide a truly useful review to our users.
This pokie is a fantasy-based adventure where the player can try one's luck among diamonds, potions, axes, princesses and knights all with the click of a button. An added bonus is trying out the game first without a need to deposit any cash up front. Simply click or tap on the green start button and see what Lady Luck has in store for you online this time. Now let's dig into the details of what lies before you.
Review & Experience
The Diamond Dragon game is a type of video slot with minimum and maximum bets being 0.05 and 62.5 respectively. Yet it has a free version for you to try the demo yourself. In the practice round, you are given a fake balance, which gives you a good amount of spins to get the hand of the pokie. The video component allows for pretty cool animation upon getting one of the pay-lines with fire and clearly labelled lines flashing right in front of you.
The fairy tale theme of the game may teleport the gambler back to something played in childhood. The rune symbols and the Lord of the Rings style music really set the mood of the whole atmosphere. If you focus just on the game in front of you, you can even feel as if you are sitting in peasant rags enjoying all the pleasures modern internet provides you with.
There is even a story to accompany this slot game. Apparently, the highest value in this slot machine game is given to the diamonds, which are dearly protected by dragons. But you can get small winnings by helping out the knights as well. Basically, a combination of at least three is what you are looking to draw in the online slot machine. Do not count out the rune symbols either, as a combination of them also brings you winnings.
While the diamonds and dragons seem to be the focus, there is a deeper story of two families fighting for the long-wanted treasure. Unless you really read into the story, the members of the two families may just seem as random characters out of a fantasy. Therefore, while diamonds are good and all, it is the Queens and Kings that can also bring quite a hefty win.
The software provider for this slot machine is Rival. Compared to other slot developers, Rival is relatively new to the market of casino software which definitely keeps them on their toes and adds productivity in their wings. Perhaps this is one of the reasons the game keeps wishing you good luck. A nice touch.
Gameplay & Bonus Features
Unlike the classic pokie, where you'd expect to see only three reals, this online slot has a total of five, which makes it both harder and more exciting at the same time. Yet the number of pay lines remains at the classic range of three with a total of 50 pay-lines to go for. You can also win with several lines in one go. We were able to collect up to 7 pay-lines per winning spin.
While playing for fun, for money or both, take advantage of all the game features. There are bonus rounds, as well as free spins to use. One way to unlock such bonuses is by collecting the diamonds founds on reels one, three and five. Their proper combination unlocks the Diamond Pick Bonus. Being a five-reel slot, it even allows for a multiplayer opportunity to bring friends along. Together, you can they discover the scatters and wild symbol features as well as unlock some new slots.
Summary
Get ready to dive into the medieval fantasy through the fight with dragons for diamonds. Unlock all the 50 pay-lines or just the most valuable. Play with friends or leave yourself to enjoy it all. Try the free version or put down money to earn for real. The variety of this pokie gives you endless options. Choose one and spin!
FAQ
🔴 What is an RTP of the Diamond Dragon pokie?

The RTP or return to player of this pokie is 94.8%, which are pretty good odds to start off at least the demo round.


🔴 What is a min and max bet in Diamond Dragon?

The minimum bet is 0.05 and the maximum is 62.5. However much you decide to invest, the range gives you lots of choice.


🔴 Is Diamond Dragon available on mobile?

Yes, it is available on all iOS and Android devices including iPhone, iPad, and various other phones and tablets.


🔴 Where can I play Diamond Dragon pokie for real money?

We have a list of all possible casinos to enjoy this pokie listed below. Scroll down and see which seems most attractive to you. Many casinos have this slot available, so if you feel your luck is not what it should be, give another casino a try. Perhaps it was just the wrong pick.

TOP Casinos With Diamond Dragon