Treasures of the Pyramids Pokie Online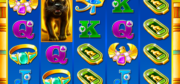 Provider
IGT
Reels

5

Paylines

40

Min. Bet

0.01

Max. Bet

200
Arabian nights… like Arabian days… full of gold, pyramids and black leopards. That's about the gist of what you need to know about the style of the Treasures of the Pyramid slot. We were lucky to get a big win of 985 coins from our first spin! Pretty unreal if you ask us but it happens. Within the first 10 spins we won three times in total which are pretty good odds.
Let's not get ahead of ourselves though. This pokie did get a more thorough review from us even if we were a bit drunk from the first-spin winnings. Read on to learn about all their features, bonuses and what any gambler should know when enjoying this online pokie in practice mode or for real.
Review & Experience
The Treasures of the Pyramids online slot is developed by the IGT software developer. It has 5 reels and 40 pay lines which are displayed right underneath the actual game table. The Egyptian theme can be felt in the music, animation and graphic. On this adventure game, the player is transported into the tomb of a past pharaoh to discover all the treasures of the ancient world.
IGT slots developer is based near Las Vegas in Nevada so they are pretty into the whole gambling scene as you can imagine. They do it all: online and offline, succeeding in both as a top developer. They strive for innovation, constantly improving their products to be more sleek, fast and even bright and attractive. A thrilling experience is what they want to present to everyone playing their games even if just for fun.
The game comes with exciting rewards which you can collect after spinning through all the ancient artefacts, jewels and ornaments, pendants and necklaces, stunning views and powerful panthers. Add a few letters and numbers to the mix and the internet game is set.
Gameplay & Bonus Features
With bets from 1 to 500 and 40 lines to choose from, the price per spin increases to 40 to 20000. Demo mode doesn't even let you try out the maximum bet, so we mostly used the lowest one when we played. You can play however you wish though. Just make sure to place bets within your budget when switching from the free version.
However, you do not have to bet on all 40 lines every time. You can bet on only 1 on in 10s – 10, 20, 30 too. Matching bets is another option for you to play from 1 to 20 coins
on the lines you choose. That's not the only way to win, though. All the bets and winnings can get multiplied within the Bonus Round.
We wanted to open the bonus round quickly without having to spin a dozen times, so we turned on auto-spin. Unfortunately for us, it refused to work as soon as we left the tab or even scrolled down. On the good side, it actually took us less than 20 spins on auto-spin to get to the bonus round and get a bonus win of 1120 on top of that!
The bonus round basically differs a bit in colour and has a separate welcome screen inviting you to the treasure room of the pyramid you've been roaming. We got a total of 8 free spins at first, but by rolling another 3 pyramids, we got 8 more for a total of 16. Great deal, great fun. While the underdeveloped auto-spin feature did disappoint, the winnings of the game surely made up for any discomfort.
Summary
While the RTP of the game is pretty average among all online pokies, for us subjectively it did seem that we won more often than in other online slots. Sure, with a spin costing 40, the prize did not always match what we spent, but it was a nice incentive regardless. Looking for that Arabian adventure? This placed is for you – full of treasure, prizes and even wild blank panthers roaming around actually helping you win more!

FAQ
🔴 I want to play the Treasure of the Pyramid pokie on my commute. Can I play from my phone?

Easily! The game adjusts to any device you open it with and actually creates a separate tab just with the reels and the needed buttons. This makes it super easy and convenient to play from any mobile device.


🔴 What's the wild symbol in the Treasure of the Pyramid online slot?

The blank panther, being as wild as they come, is the wild symbol of this machine game. As everywhere, it can substitute other icons to help you win on pay lines.


🔴 How much are the bets on the Treasure of the Pyramid?

The bet per one line starts at 1 and ends at 500. However, if you want to be on all 40 lines, then the bet range is 1 to 20 000.


🔴 Can I play Treasure of the Pyramid for real?

Without a doubt! Choose an online casino from our list of suggestions and go.

TOP Casinos With Treasure of the Pyramid